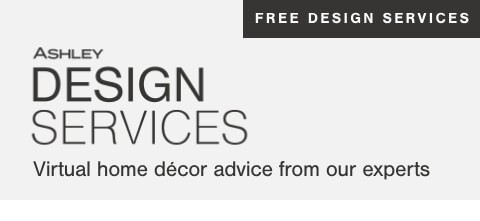 Frequently Asked Ashley Design Service Questions
frequently asked questions
---
How do I start the interior design service process?
To begin designing the home of your dreams alongside our experts, submit your design request
here
and we'll get to work.
How long does a custom design take?
After you submit a design request and questionnaire, a designer will reach out within 1-2 days. The overall interior design service online process can take up to 5-10 days. Your designer will provide an exact timeline on when to expect your design.
Is a designer located at my local Ashley Store?
Your free design advice and custom space design is an online design service by Ashley's expert team of interior designers through Ashley.com. Many of our Ashley stores are independently owned and operated, so please check with your local store to see if an in-store service is available in your area.
How can I purchase my room design?
A personalized wish list will be created to help make shopping easy. Purchases can be made online or at your local Ashley store- your choice!
How much does a custom design cost?
Ashley's online interior design service is completely free!
Can I see the product in person?
Depending on your design style and needs, most items can be found at your nearest Ashley store. However, we may select some items for you that are available online only. Please contact your
local Ashley store
to see if the product you'd like to view is in-store.
What kind of spaces can a virtual interior designer help with?
A virtual designer can help you with just about any interior space and some outdoor areas. Let's get started by clicking
here
.
Can I design multiple rooms at once?
We can design as many rooms as you'd like, but we do like to start with the most important room to make sure we are understanding your design style.
Can I incorporate furniture or accessories that I already own in my custom design?
We understand some items hold special meaning in your life and we would be happy to celebrate those items in your space.